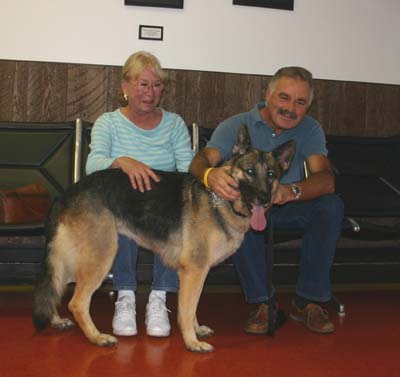 Home Sweet Home for Sweet Hilda
________

"Nobody comes in the Milburn yard without permission!"
________

Westside adoptee, Grizzly and family visited our
Pooch Parade Booth. What fun to see the Alumni!
________
Davita



Davita (adopted from Westside), Krista and Bill at
the Pooch Parade.
________

Tichell's Permanent Slumber Party
________

"Somebody up there likes me!"
________

"I hope I'm not dreaming!!!"
________
Kai

"Now, if I could just get my new master to
fetch me a cold one ...!"

_________________

"What a grand party this is going to be!"
________
Meagan's Kass (aka Mystic) now has her assistance dog tag from the state and is doing great. She is brillant, everyone is so impressed with her in obedience, she actually is in the intermediate class, and we were able to skip puppy and beginner! She is the greatest, we are having a blast together. Thanks to westside for introducing us; it's hard to imagine my day without her.
________

Mauricio's Gorgeous Guy!
________