Westside German Shepherd Rescue of Los Angeles is a non profit 501(c)3, no kill rescue committed to saving
all types of German Shepherd Dogs from high kill shelters and adopting them to loving, qualified homes.
Jaeger von Jessen
Jaeger von Jessen is a veru handsome 1-2 year old German Shepherd.

Per his foster:
We're still working out which Jaeger loves more: people, or dogs. Jaeger is the life of the party at the dog park. Other dogs gravitate towards his happy energy, and he gets perfect marks for drama-free interaction. He loves to chase but does not tackle, and just bounced away when a scrum formed around a scared Chihuahua. At home, Jaeger will play by himself for hours. A mere sock will delight him! If it squeaks, he's over the moon! He is house-trained with a dog door, though he's still learning some of his manners. Jaeger is a high-energy dog, and still something of a puppy. He would love a large yard to race around in, or an owner who will take him on runs, or both! He does not seem to understand the concept of "tired," though he is also a champion snuggler and melts with happiness when you take a moment to rub his head and tell him he's a good boy. Don't be surprised if you wake up to him snoring with his head tucked under your chin, his ears tickling your nose. Jaeger successfully cohabitated with an assertive cat, and merely looked befuddled when a toddler smacked him in the face. Some humans might think he gives hugs too freely, but Jaeger loves everything and everyone! He also loves water, and playing fetch. Jaeger is too much for some dogs who prefer a relaxed home environment, so he'll do best in a home with a very tolerant dog, or one who matches his high spirits, or as an only dog who gets plenty of trips to the dog park. Jaeger was suffering from malnutrition and stress-related alopecia when he arrived at the rescue, but is on the road to a full recovery. He's already a magnet for stares and appreciative comments--imagine what a hunk he'll be in a few more weeks! Just be prepared for people asking you if he's a wolf. Think of all the fun answers you can give.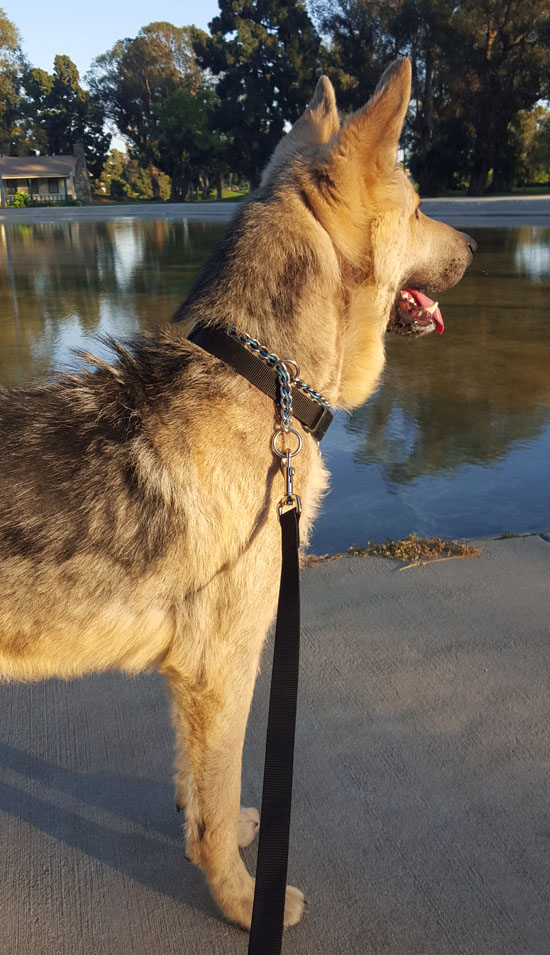 You may now use your credit card to make a DONATION,
pay an ADOPTION FEE or contribute to a
MEDICAL FUND using the convenient and secure PayPal Service
Copyright © 2003 Westside German Shepherd Rescue. All rights reserved. 170206