Gunter
Adopted
See Tails of Joy
Günter is a huge 4 year old purebred German Shepherd.He has the rich coloring and body confirmation of the German imports. He is a powerful dog who weighs over 100 pounds and is magnificent to watch-all muscle and power. Günter is also extremely intelligent and confident. He has never met his match and has spent the last four years doing whatever he pleased.
He has a natural tendency to be protective, but with his obedience training he will look to his handler for commands instead of deciding for himself. We are asking a donation of $1,250 to cover part of the cost of Günter's training. And due to the tremendous interest in him, we may have to set up a lottery. More on that later.
Günter is also neutered and micro-chipped. Once he completes his 6-week course, the trainer will continue to work with Günter and his new family. Günter's training comes with a lifetime guarantee.
Please Contact Robin to Arrange an Introduction to our Dogs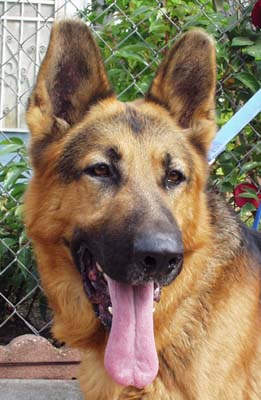 It has been a long and hard road for Gunter. We are so happy for him that he has made it to paradise.
or call (310) 202-SAVE (7283)
Copyright © 2003 Westside German Shepherd Rescue. All rights reserved.
Last Updated 4/1/2004.