Tilly
Adopted
Tilly is the most enchanting puppy you could imagine. She is a 10- week-old long-haired German Shepherd. She was a gift to someone who lived in an apartment and couldn't have a dog. We were told that they had gotten her from a breeder. She has so much personality and has lots of spunk for such a little one. She loves to play with, and can hold her own, with her 100-pound brother. Tilly also loves her human foster brother and the rest of the family. She is housebroken and learns very quickly. Tilly is extremely smart. Anyone who sees Tilly thinks she is ready for central casting. She is a movie star in the making. We are unable to know for sure whether Tilly is a purebred because of her young age. We don't know who her parents are. If that is very important to you, we suggest adopting a little older puppy. We are asking a donation of $350 to go towards her care and for other less fortunate German Shepherds.

Please Contact Robin to Arrange an Introduction to our Dogs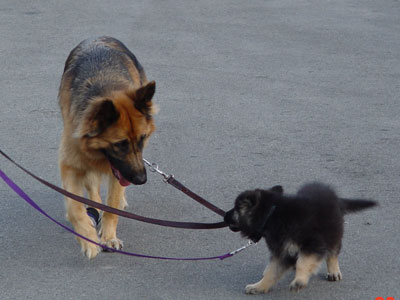 You may now use your credit card to make a DONATION,
pay an ADOPTION FEE or contribute to a
MEDICAL FUND using the convenient and secure PayPal Service
Copyright © 2003 Westside German Shepherd Rescue. All rights reserved.
Last Updated 5/25/2004.