Mozart
In Memorium
Mozart was a gentle giant. He was a 4 year old long haired German Shepherd. He had a huge frame and a huge head, he should have been around 120 pounds when he was the right weight. He looked more like a bear than a dog, but had the sweetest temperament. He walked right with you and did't pull, what a treat not to be dragged around the block. He was perfect in a crowded veterinary office. We just sat with him and watched the interaction. Little dogs were ready to attack him and he didn't even look at them. He kissed a sweet little dog. The vet techs took him up to a cage with feral cats, they said he just curled up next to the hissing cats. They thought he actually liked them. He watched a little girl play with Legos. Mozart was a pretty amazing dog. In spite of all our best efforts, Mozart passed away. He will missed.
Please make a donation in Mozart's name.

Please Contact Robin to Arrange an Introduction to our Dogs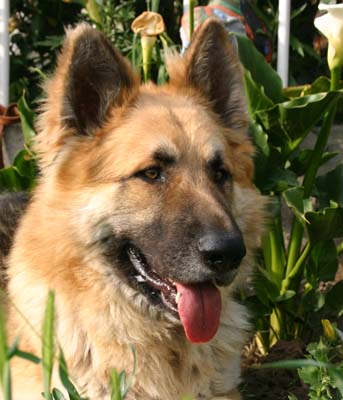 You may now use your credit card to make a DONATION,
pay an ADOPTION FEE or contribute to a
MEDICAL FUND using the convenient and secure PayPal Service
Back to Available Dogs
robin@sheprescue.org
or call (310) 202-SAVE (7283)
Copyright © 2003 Westside German Shepherd Rescue. All rights reserved.
Last Updated 4/8/2004.