Westside German Shepherd Rescue of Los Angeles is a non profit 501(c)3, no kill rescue committed to saving
all types of German Shepherd Dogs from high kill shelters and adopting them to loving, qualified homes.
Bowie von Bergweiler
Bowie von Bergweiler is the most delightful 12 month old Shepherd mix.
He is looking for a home with another active, playful dog so they can help each other burn off some energy.
Per his foster mom:
Bowie is the happiest, most social dog I have ever known. He simply loves everybody, canine and human alike. He has become everybody's favorite at the local dog park where he politely introduces himself to small, medium and large dogs and invites them to engage in energetic play. He runs with them when they are chasing balls, but he never tries to take the ball from them. He only wants the pure joy of running as fast as his adorable little body will go. He is very attuned to those dogs who are not interested and leaves them alone. He appears to have some herding instinct and moves (part Border Collie?) and he would be a fantastic candidate for Agility sports. The people at the dog park absolutely love Bowie because, while he is always friendly with them, he plays so beautifully and safely with their own dogs. He is super smart, learns do's and don't's rapidly and demonstrates his superior brain power in his focused quests for missing objects like balls and toys, whether hiding in the bushes outside or lurking under couches inside. He shows interest in water and may be a swimmer given the opportunity. Bowie is a high energy dog that needs a lot of physical activity and mental stimulation. He does need a human that lives a very active lifestyle; he would love marathons and he would adore long treks in the mountains. Bowie is neutered, house-trained and has learned his sit command. He is working on "come," a more challenging command to learn, especially when he is at the dog park having so much fun. Walking on leash is a work in progress. He starts out super enthusiastic and just wants to burst forward, but with corrections he calms down and walks next to you. Bowie sleeps all night in his crate and, in fact, at bedtime you simply ask him to go into his crate and he does! He is blind in his right eye (from previous trauma) but this in no way limits him. He was examined by a veterinary ophthalmologist who reported that while he will not regain sight in the eye, it causes him no pain or difficulty. In all other ways, he is an extremely healthy, fit dog with a voracious appetite for fun and friendship.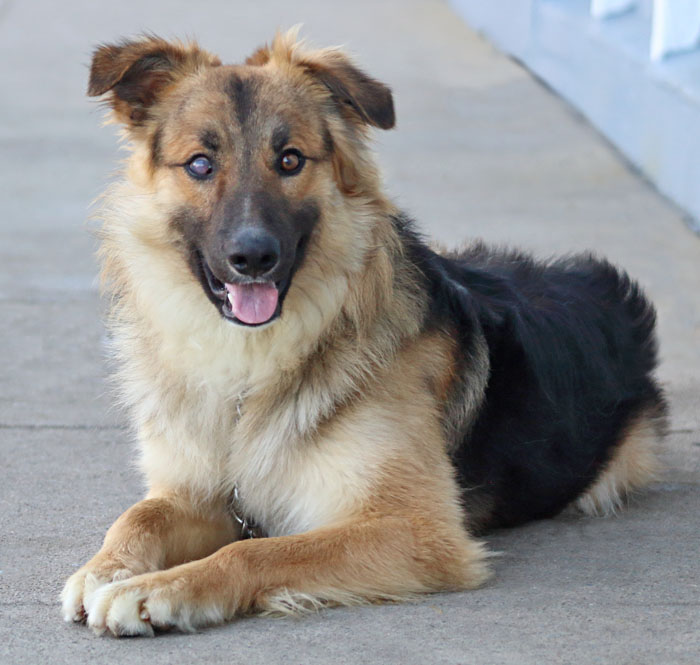 You may now use your credit card to make a DONATION,
pay an ADOPTION FEE or contribute to a
MEDICAL FUND using the convenient and secure PayPal Service
Copyright © 2003 Westside German Shepherd Rescue. All rights reserved. 210307, 210514