Solitaire von Carson
Adopted
Solitaire von Carson is a 4 year old charmer. Solitaire was given up by his family for no given reason. He became an instant favorite at the Carson Shelter, there was no way they were going to let us forget this special boy. When one of our volunteers was walking Solitary around a residential area she felt as if she was a story in a children's book. People sitting on their porches would greet Solitary as he walked by, he stopped to greet the post lady and then said hello to some dogs passing. Solitaire stopped to watch some cats sunning themselves on a veranda and then he walked on without a glance. He is such a sweet boy, our volunteer is used to crossing the street with her dog to avoid problems with the postman or other dogs, Solitaire is such a pleasure. He would make the best all around family dog!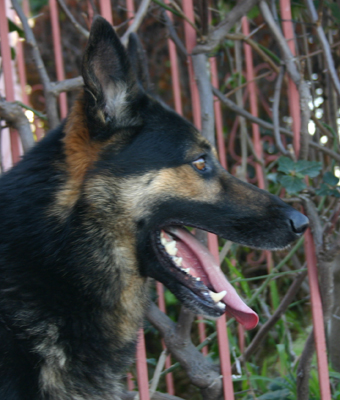 To Arrange an Introduction to this Dog
Please Fill out an Application
You may now use your credit card to make a DONATION,
pay an ADOPTION FEE or contribute to a
MEDICAL FUND using the convenient and secure PayPal Service
Copyright © 2003 Westside German Shepherd Rescue. All rights reserved.
Last Updated 4/23/2006.