Sam von Merrill
Adopted

Sam is a beautiful 2 year old GS. He is medium size, and he could use to gain a few pounds. He has a great appetite when he's having a sleep over at the home of one of our volunteers. He is very well behaved, doesn't bark (except at the vacuum cleaner), rides well in the car, is great on leash. Loves going for walks, he has such a bouncy prance, so light on his paws. He is VERY affectionate, and bonds quickly to the person who gives him love and attention. He likes to be near you all the time, so he would do well in a home where someone is home all the time or can take him along to work. He's been to the dog park and seems to get along with all dogs. He enjoys having his own crate to sleep and hang out in. He snoozes through the night without making a peep. Sam is just an all around sweet dog with the biggest and prettiest brown eyes. Our volunteer is no longer smitten, she is in LOVE and will be happy to answer questions about Sam since she's been working with him.
Email Csilla at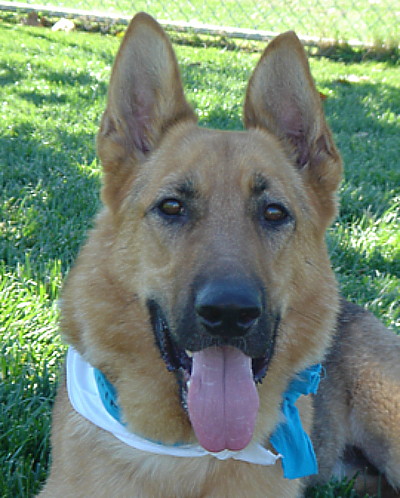 You may now use your credit card to make a DONATION,
pay an ADOPTION FEE or contribute to a
MEDICAL FUND using the convenient and secure PayPal Service
Copyright © 2003 Westside German Shepherd Rescue. All rights reserved.
Last Updated 9/22/2005.