Heidi von Steiner
Adopted
Heidi is a gentle soul, she is calm and loving to everyone. We have even tested her with cats and she is gentle with them too. We guess that Heidi is around 8 years old, as she feels better she seems younger. and younger. Heidi is on the smaller sid for a German Shepherd and will weigh around 55 pounds when she reaches her correct weight. Now she has started playing with balls and is enjoying her life so much. Heidi is housebroken and very good in the house. She is alert and watchful of the family. She only barks if there is something she needs to alert you about. She has been crate trained and when you tell her "go to bed" she gets in her crate. She really doesn't have to have one, but some people like them. She is very good with her canine foster sisters, but is always taking their balls, other than that they love her. Heidi has been under the care of a skin specialist, but is doing so well that she only has to go for a recheck every couple months. Heidi has so much to give and deserves a special family. She has waited longer than any other dog for her special home. Heidi has so much to give her forever family, they will never regret giving her a chance.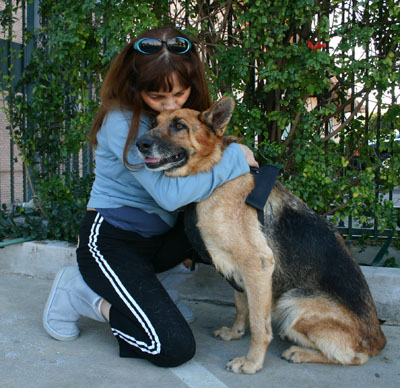 You may now use your credit card to make a DONATION,
pay an ADOPTION FEE or contribute to a
MEDICAL FUND using the convenient and secure PayPal Service
Copyright © 2003 Westside German Shepherd Rescue. All rights reserved.
Last Updated 4/1/2006.